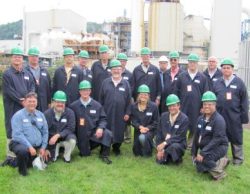 EAST LIVERPOOL, Ohio – Heritage Thermal Services (HTS) hosted a tour of its advanced incineration facility on Aug. 20 for members of the Coalition for Responsible Waste Incineration, or CRWI. The tour was part of the trade group's quarterly meeting, which was held in Pittsburgh.
"We are honored to host members of our industry trade association," John Avdellas, HTS president, said. "It was an opportunity we were glad to accept."
Based on their remarks afterwards, the members were favorably impressed with the professionalism of the employees and the facility's environmentally friendly technology.
HTS began welcoming guests through its front gate even before operations got underway in 1992. Since that time, the facility has hosted thousands of U.S. and international visitors from academia, government, industry and the public.
The Coalition for Responsible Waste Incineration (CRWI) was founded in 1987 to provide information about the role high-temperature combustion plays in the management of industrial hazardous wastes. The Ashburn, Va.-based organization has 26 member companies that share interests in hazardous-waste combustion.